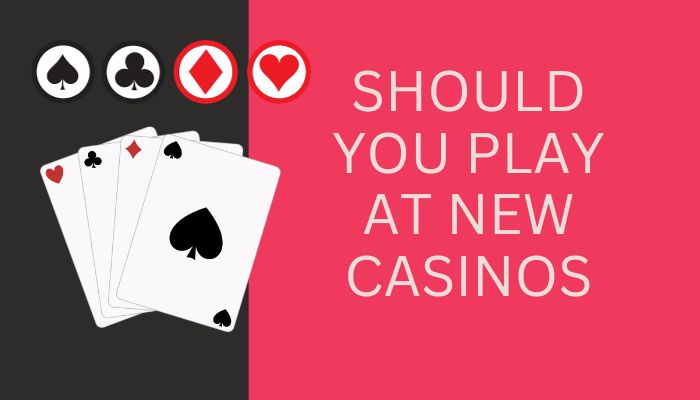 Online casinos and gambling are continually on the rise, with new casinos popping up all the time. Check out our guide to the best new UK online casino sites for the most recent additions. What this means is that there is an ever-growing selection of options available to players. But, when there are big-name casinos that have been around for years available, what do new casinos bring to the table? Read on to find out.
New casinos versus established casinos
The big issue facing any new online casino is the competition that's already there. Seasoned players typically have a preferred site that they are loyal to. Additionally, established sites tend to have strong reputations in the casino world simply because they have been around for so long already. This is attractive to novice players. The result is that it can be hard for a new casino to compete and entice both new and experienced players to its site.
However, new online casinos have several features often not found in older, more established sites. This is because they can make use of trends, use newer technologies, and have an overall better idea of what players want. Better still, unlike older casinos, they can build their site from scratch, catering to the needs of the players rather than having to adapt a pre-existing site.
Rewards and gamification
With market research on their side, and the ability to see where other casinos have failed, new casinos are able to give much more to their players. Many of them offer much larger rewards and bonuses for signing up. This is often feasible for newer sites as they tend not to be linked to a land-based venue and have fewer overheads. These bonuses can include everything from free spins to match deposit offers.
Additionally, newer casinos have more gamification features included as well. These sites commonly offer players a points scheme for gaining rewards and bonuses. Points can be earned through completing different challenges, not just by being loyal and spending real cash like older online casinos. Instead, these new gamification features add more games within the gaming platform providing tournaments, player head-to-heads, daily wheel spins for prizes, and more.
Game variation
A key positive of new casinos is that they typically have a wide array of games on offer. Often they can offer a greater range of games than more established sites. This is because new casinos use a larger selection of software providers. They can make use of smaller, up-and-coming studios as well as long-running brands. As such, players can enjoy greater game diversity, often accessing thousands of games rather than just hundreds.
Importantly, these games still come from trusted providers and are fair. Additionally, games such as these often have high RTPs (or return to player rates), which makes them more exciting to players in terms of win potential.
Updated and new technologies
Following on from the games is the fact that many of these newer casinos also offer new technologies. These provide an even more entertaining gaming experience. For instance, some new casinos have added the use of virtual reality into some features of their games. Others have opted to include better graphics and immersive sound effects to the site to foster a more encompassing gaming experience.
Improving the user experience
There are more ways to give users and players a better time online as well. Many of these seem obvious now, but weren't possible with the technology available to older casino sites. For instance, newer casinos can use technologies such as storing data on the cloud, allowing for far faster load times for the casino and its games. In conjunction with this, new casinos are more responsive, giving players access to a better layout than many of the more established casinos out there.
Finally, for the ultimate user experience, new casinos make sure they are mobile-compatible. For many, this simply means being accessible on a mobile browser. The site will appear the same as the desktop version of the casino and offer the same games and bonuses. It's simply going to be a scaled-down version of the casino that fits to different screen sizes.
However, many new sites take it one step further, offering players a mobile app. The best new casinos make sure this is compatible for both Android and iOS users. These apps provide quick access to all the games and bonuses on offer. Better still, they're on the phone, so they're accessible and don't need players to type in a URL to get playing.
For any mobile platform, the same account can be used on the desktop version as well.
Speedy payouts and payment options
Another big step for new casinos is the ability to offer a wider array of payment methods compared to some of the older casino sites. The main innovation here is the use of cryptocurrency, something not readily available when many established online casinos were formed. Indeed, many jurisdictions did not allow or accept crypto as a payment in the early days, but this has changed.
New casinos are commonly providing cryptocurrencies as an option. This means that players can use a currency that offers incredibly fast payouts. Better still, there are minimal fees in place and no currency conversion fees deducted. Casinos like this also go further and offer various crash games that are specific to cryptocurrencies as well.
A final plus is the ability for players to enjoy anonymity. Using crypto means access to a secure payment system. And, it means that no private or personal details need be provided to the casino at all. Players can simply sign up, link a crypto wallet and get playing right away.
Importantly, player safety and security are not compromised in new casinos. These casinos still offer high-level security protocols to prevent player data from being accessed by third parties. They also provide high-quality support in a variety of formats, often including social media options such as X or Discord to get closer to their players.
In conclusion, new casinos have a lot going for them. However, players should still check out all aspects of a new casino to ensure it meets their requirements.