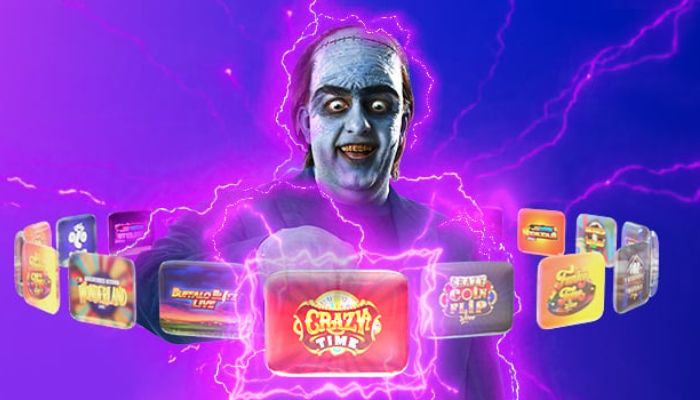 If you want to achieve success it isn't just about having an excellent product. Online casino PlayOJO are fully aware of the importance of a high quality and attention grabbing advertising campaign.
The company is becoming renowned for its advertisements. Awards have been won in the past and people are already talking about their latest one. For reasons that will soon become apparent, their 'It's Alive!' advertising campaign is becoming a monster hit.
One of the most popular sections of an online casino is the ability to play live games. PlayOJO are fully aware of this fact and have built an impressive selection of gameshows alongside the usual set of popular table games in a live setting.
To get that fact across, the company has released an advertisement that will be familiar to fans of horror movies. That's where the 'It's Alive' comment hails from as Frankenstein sees his creation come to life.
This new advertising campaign is more like 'The Munsters' than 'Frankenstein. When a monster comes to life, they usually break loose and go on a rampage. Not this one though!  Instead he wants to start playing some casino games and hopefully get some good wins.
The advertising campaign comes at a time when online gambling in the UK is facing stricter regulation. Recently the UK Government published a White Paper setting out plans for future reform of the gambling laws. Many of the proposals are directed at online casinos with the aim of bringing gambling legislation into the digital age.
Proposals include stricter affordability checks and reduced stake limits on games. If these become law then both will hit the profits of old and new online casinos in the UK.
Another area that has already seen action being taken is regards how gambling companies advertise their products.
Since October 2022 a new rule bans sports stars, celebrities and those "likely to be of strong appeal to children or young persons" from advertising gambling products. This was introduced by the Committee of Advertising Practice. This may explain why the new PlayOJO advertising campaign features a fictional monster rather than a well-known personality.
While gambling is a very serious business, it seems that many companies decide to use humour in their advertising. Their 2022 'Safe Bets' campaign used humour and parody to deal with the serious subject of safe gambling.
Their advertisement parodied the rather cringeworthy sex education videos that were made in the 1970s. Instead the message put across was how it's so important to bet responsibly at online casinos and other gambling venues.
It's a subject that PlayOJO takes very seriously. The ability to set deposit limits, receive 24/7 support and take a break if gambling is causing a problem were all mentioned in the 'Safe Bets' advertisement.
Last September saw the PlayOJO 'Safe Bets' advertising campaign win a major award. It won the Best Use of Social Media for Entertainment Award at the annual Social Media Awards. The advertisement starred Oliva Bowen from 'Love Island.' That wouldn't be allowed under the new regulations.
Another area that anti-gambling campaigners are concerned about are the bonuses offered by casinos. In a highly competitive battle for a healthy market share, offers such as free spins are offered by sites as they attempt to attract new customers.
Critics claim that these and the offers available for regular customers are simply an incentive to make players continue gambling. They are critical of some of the offers as they may not be attractive as they seem. High wagering requirements can make it difficult for the customer to withdraw any real cash from the bonus.
Amidst all the criticism and the proposed stricter regulation, online casinos are busy promoting the work that they do to protect their customers. Peter Bennett is the CEO of PlayOJO and is quick to state that the company promotes "responsible and safer gambling."
Protecting them is "at the forefront of everything we do as a business," he added. Their site stresses this and they point out the fact that their welcome offer does not have any wagering requirements in place.
Now they launch this new advertising campaign and the hope is it'll attract even more customers to the site and not just the monsters out there.